| | | | | | |
| --- | --- | --- | --- | --- | --- |
| Home | | | | Elementary Real Analysis | |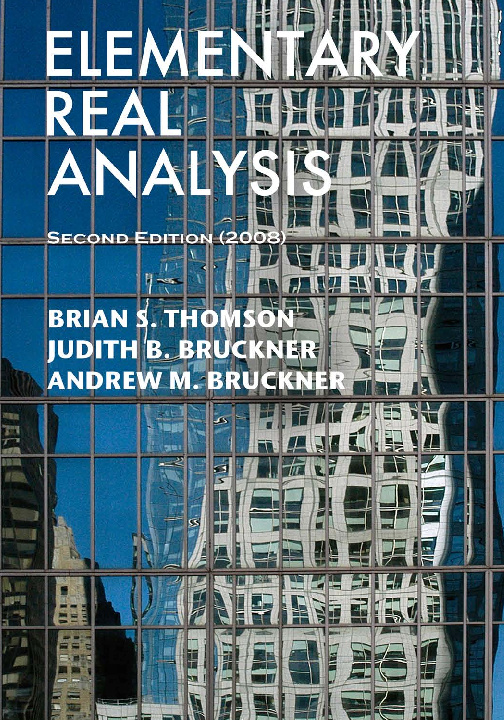 This book is the second edition of an undergraduate level Real Analysis textbook formerly published by Prentice Hall (Pearson) in 2001.
It is designed to be a user-friendly text that is suitable for a one year course.
Additional elementary material designated as enrichment can be included for students with minimal background. Material designated as advanced is intended for students with stronger backgrounds. Such topics are of a more sophisticated nature.

The text consists of two volumes, each covering a semester course. It can be purchased as one book containing the material in both volumes. Volumes I and II can also be purchased separately in smaller, more convenient sizes.
More about the purpose, level, scope and use of the book can be found in the
Preface
. See also the
Table of Contents
, which lists the topics covered in each volume.

E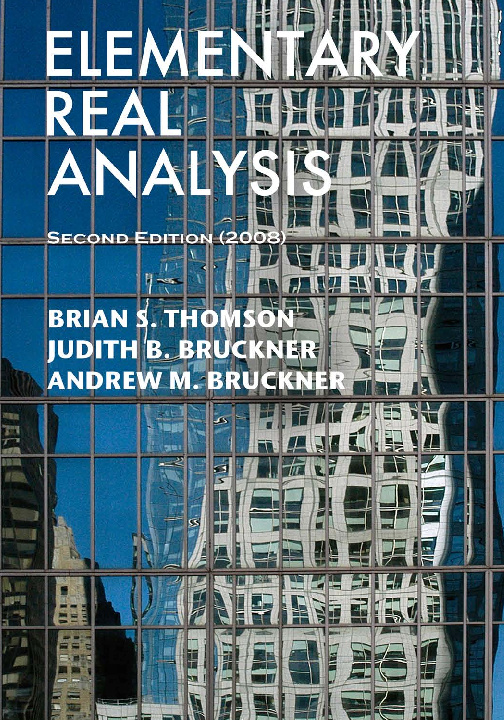 lementary Real Analysis

Second Edition (2008)
by Brian S. Thomson Judith B. Bruckner, Andrew M. Bruckner
This is the full paperback edition, containing all chapters.
ISBN-10: 143484367X
ISBN-13: 978-1434843678
BISAC: Mathematics / Mathematical Analysis

Elementary Real Analysis

Second Edition (2008)
Volume I
by Brian S. Thomson Judith B. Bruckner, Andrew M. Bruckner
400 pages, Chapters 1 - 8 of the complete text
ISBN: 1434841618
ISBN-13: 9781434841612 (CreateSpace-Assigned)
BISAC: Mathematics / Mathematical Analysis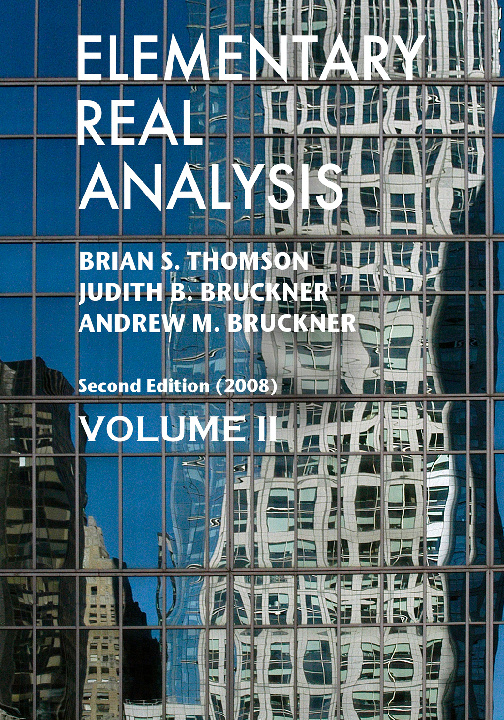 Elementary Real Analysis
Second Edition (2008)
Volume II
by Brian S. Thomson Judith B. Bruckner, Andrew M. Bruckner
290 pages, Chapters 9 - 13 of the complete text

ISBN: 143489620X
ISBN-13: 978-1434896209 (CreateSpace-Assigned)
BISAC: Mathematics / Mathematical Analysis